November 2017
Three years after all that ice...
Three years ago the ALS/MND Ice Bucket Challenge was sweeping the world. Donations from 30,000 Australians funded a $1.05 million MND Australia Ice Bucket Challenge Grant awarded by MNDRIA to Professor Naomi Wray and Associate Professor Ian Blair to set up a consortium of MND researchers – SALSA-SGC. The consortium has now been established and in the field since April 2016. To read more about how the consortium has progressed - click here.

2015
The search for new risk genes and therapies to treat MND is set to accelerate with the announcement of the $1.05 million MND Australia Ice Bucket Challenge Grant that will bring together clinicians and researchers from Australia's leading MND centres.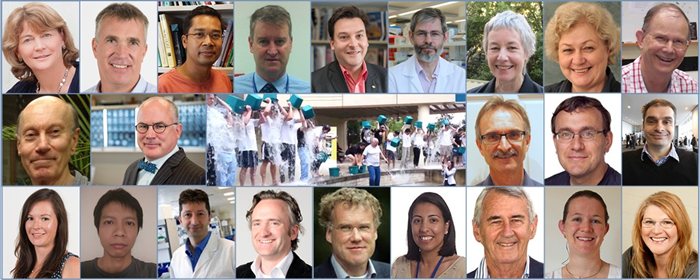 Project overview
This is the largest collaborative MND project to be undertaken in Australia. It will be led by Professor Naomi Wray of the University of Queensland's (UQ) Queensland Brain Institute and Associate Professor Ian Blair of Macquarie University.
The Sporadic ALS Australian Systems Genomics Consortium (SALSA-SGC) comprises sixteen researchers from nine MND centres across Australia who will work together to build an integrated infrastructure for the collection and analyses of biological samples and clinical data. This pooled expertise will lead to a better understanding of the causes of sporadic MND.
According to Professor Wray the biology of MND is complex and poorly understood, but there have been dramatic advances in MND research in the past five years.
"These advances have been driven, almost entirely, by gene discoveries from the small number of families with more than one affected individual," she said.
For the vast majority (90% of all cases) of those with MND the diagnosis is sporadic, meaning they have an isolated case with no family history of the disease.
Recent developments in technology have revealed that people with sporadic MND may have genetic changes that could be risk factors for MND. SALSA-SGC aims to collectively identify new risk genes through whole genome analysis.
This initiative will generate a research resource that will underpin future research and enable people living with MND to benefit from advances made through genomic medicine.
Funding and grant review
All funds for the grant came from over 30,000 Australians who donated to MND Australia's research arm, the MND Research Institute of Australia (MNDRIA) during last year's MND Ice Bucket Challenge. This has enabled the largest grant ever awarded by MNDRIA. It will provide $350,000 per year over three years.
Seven grant applications were reviewed and scored by four eminent international MND research experts:
• Dr Brian Dickie, Director of Research Development, MND Association UK
• Professor Emeritus Andrew Eisen, Neurology UBC, Vancouver
• Professor Orla Hardiman , Neurology, Trinity College, Dublin
• Professor Emeritus Michael Swash, Neurology, London UK
When scores were tallied, the Sporadic ALS Australian Systems Genomics Consortium ranked highest.