$25 Million, 25 Milestones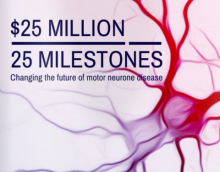 The MND Australia Ice Bucket Challenge Grant and SALSA-SGC is one of 25 milestones celebrated in a new landmark report from MNDRIA. The '$25 Million, 25 Milestones: Changing the future of MND' report describes 25 high-impact, MNDRIA-funded projects that are helping to change the future of MND.
It celebrates the $25 million that MNDRIA has awarded in grants since 1987, recognises the generosity of the many Australians who funded the research (including the 30000 that donated during the Ice Bucket Challenge) and brings hope to more than 2000 people living with MND in Australia. To read the report click here - the Ice Bucket Challenge Grant can be found on page 12.