Dr Joana Revez - Rose-Anne Kelso Commemorative Award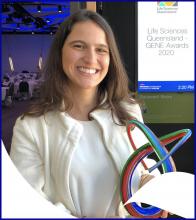 Congratulations to Dr Joana Revez for winning the Rose-Anne Kelso Commemorative Award at the Life Sciences Queensland GENE Awards!
This was awarded to recognize an individual female's endeavors, passion and dedication to the health and life sciences industry. This award recognizes Joana's work during her PhD which was primarily single gene and lab based research studying asthma and her transition in her postdoc to big data genomics and the publication this year of the vitamin D paper.
The University of Queensland